Green News
| | | | |
| --- | --- | --- | --- |
| Green weddings are on the rise | | | |
Written by asunsun
Saturday, 20 March 2010 13:04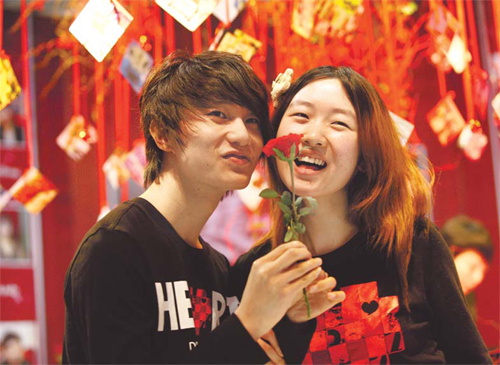 Xue Bai, 23, proposes to Tian Yuan at the 2010 China Wedding Expo in Beijing on Friday. Tian said "I do". PHOTO BY ZOU HONG / CHINA DAILY 

BEIJING - Though 2010 is considered the "widow year" in the Chinese calendar, it did not stop newlyweds and couples from flocking to the China International Wedding Expo, which opened on Friday in the Beijing Exhibition Center.

The expo, ending Monday, features wedding and honeymoon planning companies, photo agencies, flowers vendors, matchmaking websites, and jewelry makers. Staffers at all of these agreed that the "widow year" designation has not hurt their profits. Some of them predict that the Chinese wedding market would boom this year.

Huang Rui, 29, and his fiance, Liu Xiaoxia, 26, had already booked a service from Suse Wedding Photo Agency for 30,000 yuan. The couple, together with a professional team from the company, will fly to Sri Lanka to take their wedding photos at the beginning of May.
Last Updated on Saturday, 20 March 2010 13:10
Read more...
| | | | |
| --- | --- | --- | --- |
| Are you being greenwashed? | | | |

Written by asunsun

Thursday, 28 January 2010 00:06

 Published on The Jakarta Post

M. Taufiqurrahman ,  WEEKENDER   |  Fri, 01/22/2010 4:00 PM  |  Cover Story

Courtesy of Greenpeace

As the specter of global warming looms, most of us want to do our part to turn back the tide of environmental destruction. As with everything, M. Taufiqurrahman finds, it's still a case of buyer beware when making green choices.

It has become de rigueur for Jakartans in the know to look for "eco-friendly" labels on products and listen up as corporate talking heads speak of "sustainable development" and "green business".

What they don't know, however, could hurt them, or at least their belief in all those promises of environmentally friendly products and green business. It's inevitable that as consumers demand more environmentally responsible choices, there are some businesses out there all too ready to exploit their guilt and make money off their fears.

It's called greenwashing, the action by which companies mislead consumers on their environmental practices or their products' eco credentials.

Last Updated on Saturday, 20 March 2010 13:09
Read more...

| | | | |
| --- | --- | --- | --- |
| AR Mecer: Road to better living the Kalimantan way | | | |

Written by asunsun

Wednesday, 02 December 2009 12:43

AR Mecer: Road to better living the Kalimantan way

Edi Petebang ,  Contributor ,  Pontianak   |  Wed, 12/02/2009 11:05 AM  |  People

Courtesy of AR Mecer

Ask him about credit unions, and Anselmus Robertus Mecer's face will break into a beaming smile.

Since 1982, the man has dedicated his life to developing credit unions, cooperative units that provides loans and other services to their members.

The 65-year-old could not help but feel proud, as he is finally reaping the benefits of years of hard work.

Until the middle of this year, he has helped set up and developed 58 cooperative units across the country, from Papua to Batam on the Riau Islands province. Overall, his credit unions include 547,965 members with total assets of Rp 3.6 trillion.

His success made him popular among the union's members, earning him the nickname of the "walking credit union".

The secret of his success lies in his ability to create financial products suited to the needs of locals, their lifestyle and philosophy of life.

Last Updated on Saturday, 20 March 2010 13:13
Read more...

Written by asunsun

Sunday, 26 July 2009 09:47

Madonna loves it. Sienna Miller swears by it. Even Laura Bush and Condoleezza Rice go for it.

All over the world, famous people and beauty enthusiasts everywhere are coloring their cheeks with mineral makeup.

Yes, here it is, the latest cosmetic trend, and this time it isn't about what colors are in or whether the look of the day is glossy, matte or shimmering. Instead, it's about how pure your makeup is.

Put the words "pure" and "makeup" together, and many of us might get confused, thinking: "Is there any chance makeup can be pure?"

Last Updated on Saturday, 20 March 2010 13:11
Read more...

Written by asunsun

Sunday, 03 May 2009 19:53

London on a shoestring

Evi Mariani ,  The Jakarta Post ,  London   |  Sun, 05/03/2009 1:05 PM  |  Travel

How does it feel to fly halfway around the world on a budget airline for 14 hours?

Tiring, of course. But to be honest, flying budget airline Air Asia from Kuala Lumpur to London was just as tiring as flying KLM-Air France or Malaysia Airlines from Kuala Lumpur to Amsterdam.




Read more...
«
Start
Prev
1
2
Next
End
»
Page 1 of 2
Copyright © 2018 asunsun.com. All Rights Reserved.