Marathons
| | | | |
| --- | --- | --- | --- |
| China Embraces Once Foreign Sports | | | |
Written by asunsun
Sunday, 10 January 2010 21:20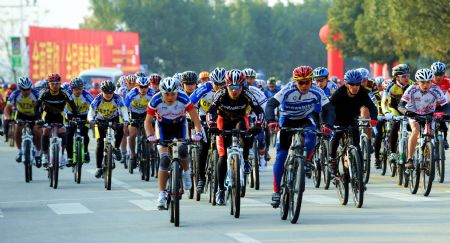 Athletes cycle in the team competition at 2009 Tour of Wuyi Mountains Road Cycling Championship held in Wuyi Mountains, east China's Fujian province December 6, 2009. [Photo/Xinhua]
YUXI, China: Running ultra marathons that turn feet into blistered, bloody stumps. Nordic skiing in winter's brutal cold. Riding mountain bikes on rump-numbing trails across the grasslands of Inner Mongolia.
For many Chinese, these have long been things that only crazy foreigners do for fun. But that's not so true anymore. The number of Chinese competing in such adventure sporting events has been growing rapidly in recent years as the country's leisure-loving middle class continues to expand. Many companies are lining up to get a bigger piece of the market, while others see the trend as a new way to promote their products.
When the organizers of the North Face 100 began accepting applications for China's first large-scale ultramarathon last year, they thought that most runners would opt for the 6.2-mile fun-run option, said Julia Cui, director of sports events at Octagon, the marketing company that promoted the event.
Only 100 slots were available for runners who wanted to do the grueling 62.14-mile race, which started at the Great Wall and went through the Ming Tombs outside Beijing last April, Cui said.
The organizers were stunned when 300 people tried to sign up and had to be turned away from the race sponsored by American outdoor gear company The North Face. "We didn't realize that this would be so popular," Cui said.
Octagon has seen a big spike in interest in other endurance events it organizes in China, like the marathon in the eastern city of Hangzhou.
"From 2006, there were only 5,000 people attending the race, but in 2009, there were 14,000," Cui said. "So the increase was huge."
For decades, those who did sports in China were mostly an elite few who were plucked out of school at young ages because they had the right physique or coordination for gymnastics, pingpong, diving or some other event. They spent their youth in state-funded sports organizations, while most other Chinese spent their lives in the fields, factories or pushing paper.
Most Chinese were busy just struggling to make a living. Extra income was spent on food, clothing and other necessities, not $90 trail running shoes that would get you through an ultramarathon.
But that's changing as the ranks of China's new middle class continue to swell. More people have the time and money for recreation, and leisure sports serve as a good "filtering system" for companies who are trying to reach consumers with money to spend, said Chris Renner, president for China of sports marketing agency Helios Partners.
"If you do your consumer-based research, you'll find that amazingly, unlike the United States, when you see people participating, doing walking, running, badminton, swimming, they're all higher level income," Renner said.
"They're higher level because they're the only ones who have leisure time. The 800 million people working in the fields don't have time for that and certainly the migrant workers don't have time for that."
Renner said the growth potential is enormous.
"We're almost starting from scratch, honestly," he said. "And I think there is an appetite as the virtuous cycle of more income, more education, more leisure time starts spinning itself."
The Economist Intelligence Unit said in a report last October that China's sports sponsorship market is worth about $1.5 billion to $2 billion - just a fraction of the global market of $60 billion. Although the state still dominates sports, the report said, commercialization is taking root. But much more development at the grass-roots level is needed, it added.
Daimon Ling is among the new class of white-collar fitness fanatics. The 31-year-old deputy general manager at a records management company in the southern city of Guangzhou said that traditionally his peers liked to spend their leisure time playing mahjong. But more of them are getting into mountain biking and cycling on the roads.
"Ten years ago, there were no Web sites in China about cycling that we could go to for information," said Ling, who rides an expensive carbon-fiber model produced by famed Italian bike maker Tommasini. "But now, there are about 10 of them that I check."
Ling is the ideal customer for many outdoor gear companies that are aggressively moving into the market. In Guangzhou, the Columbia Sportswear Company runs infomercials on small flat-screen televisions in taxi cabs. One ad features a young man who works in an airline company but has a passion for hiking in Tibet. He's shown wearing a floppy hat and fancy hiking boots, trekking among snowcapped mountains and bright blue lakes.
Trek Bicycle Corp. is another company that's focusing on China's growing masses of weekend warriors. The American company -- which already has 250 dealers across the China -- recently moved its Asia director, Philip McGlade, from Japan to Beijing.
"The potential here is massive," McGlade said.
He added that another factor that makes the Chinese market so attractive is that it's relatively easy to reach great places to ride because suburban sprawl is rare in China.
"Even in cities like Shanghai and Beijing, the two largest cities, the ability to access the outdoors is actually really good," McGlade said.
One of the pioneers in introducing mass athletic events to the Chinese is the Swedish company Nordic Ways Group, which for 11 years has been organizing Scandanavian-style sporting events in China. The firm known for organizing the Vassalopet cross-country ski festival started out in China in 1998 by promoting orienteering.
Now, Nordic Ways has branched out into mountain biking in Inner Mongolia, grassland marathons and Nordic skiing. It organizes between 20 to 25 events each year, said Niclas Hellqvist, the group's Beijing-based managing director.
The company strives to replicate famous Swedish athletic events in China. Last September, Nordic Ways organized a 110-mile road cycling race around Fuxian Lake in Yuxi in southwestern China. The inaugural event, which attracted 300 cyclists, was modeled after the annual Vatternrundan in Sweden, billed as the world's largest recreational cycling event.
The race's sponsor list included the makers of PowerBar energy snacks, Pearl Izumi sportswear and Look bicycle components. Most of the participants were local Chinese.
Hellqvist said that the Beijing Olympics in 2008 helped get more people interested in sports. It also got more local officials interested in hosting events, he added. More of them are viewing sports as a good way to highlight their cities and attract investment.
Hellqvist declined to discuss how well Nordic Ways has been doing financially.
"Put it this way, we have been in China since '98 and we're still here," he said. "It's a tough job but we're still here."
| | | | |
| --- | --- | --- | --- |
| Melbourne man heading around the world in 52 marathons | | | |

Written by asunsun

Sunday, 10 January 2010 12:57

MICHAEL COULTER

September 13, 2009

WHEN mountaineer George Mallory was asked why he wanted to climb Mount Everest, he answered: ''Because it is there.'' Tristan Miller might know how he felt.

For the Melbourne IT specialist and amateur runner, Everest is a grand (some might say mad) plan to travel the world doing a marathon each week. Why? To see if he can.

He first conceived his personal Everest while basking in a post-ultra-marathon glow, while reading a complimentary copy of Distance Runner magazine. ''In the middle was a massive calendar of marathons all over the world,'' Miller says. ''All these things I'd love to do, all these places I'd love to see. And I thought, 'How good would it be?' ''

That was in April. Since then, 32-year-old Miller has pounded his way through a 90-kilometre torture test in South Africa, taking just over nine hours, and become a victim of the financial crisis when Google closed its Melbourne office and he lost his job.

Both events conspired to nurture the dream. As of now, he has an itinerary, his best mate Darren Foss as a support crew of one, and the best part of the estimated $150,000 he needs to complete his goal, having sold his flat.

''We're leaving on December 20,'' he says. ''Zurich on New Year's Eve is the first one, it starts at midnight after the fireworks. It's going to be pretty cold.''

Having knocked over Zurich, he hopes to do a spot of skiing in the Swiss Alps before flying to Israel. Then it's over to Mumbai, then off to the Canary Islands, Morocco, Italy and Egypt. After that, things get really tough.

As far as Miller knows, there are two other people to have done 50 marathons in a year, but both of them did it within the one country. He plans to raise some sponsor dollars for UNICEF or the World Wildlife Foundation and to sightsee on the way.

''Both Darren and I love to have a good time and we're going to go to some festivals … It's going to be the most amazing adventure ever.''

Perhaps reassuringly, he admits he has no idea if his body can take the punishment of 52 races, another 45 kilometres a week of training and endless flying.

Sports scientist Dr Dan Dwyer agrees that Miller is heading into the unknown, saying he faces challenges ranging from possible stress fractures to chronic dehydration. The real risk will be if he tries too hard to push on, resulting in long-term damage to joints and bones or a chronically suppressed immune system.

''For most people [illness and injury] are self-limiting,'' Dwyer says. ''The danger is that … he might be feeling obliged to run even though he's sick because he feels people are watching him.''

Miller is indeed hoping that people will be watching. He will set up a YouTube channel to document his progress and upload information about his heart rate, times (he's aiming for 3 hours 45 minutes) and kilometres covered. His back-up plan is to have Foss step in to run if he is physically unable, but acknowledges that ''things could get weird'' if he gets sick.

He is also taking a battery of tests, and has sought advice from sports dietitian Alison Walsh, who says one of the biggest obstacles will be maintaining both quality and quantity of food to ensure his body can recover.

''He's got to maintain his weight and muscle mass,'' she says. ''He needs to be aware of his food at all times - one or two days of bad eating could really affect him for the whole week.''

But even given perfect health, great food and no late flights, climbing the mountain will still come down to having the mental strength to ignore the body's perfectly reasonable requests for a break. Which is why Miller thinks he can succeed.

''I love completing things,'' he says. ''I'm the sort of person who doesn't like to give up. I want to be the guy who can say, 'I did that', to have a story that I can tell in 10 or 20 years' time.''

| | | | |
| --- | --- | --- | --- |
| Is Running Bad for Your Knees? Maybe Not. | | | |

Written by asunsun

Saturday, 26 December 2009 20:34

Perhaps because it seems intuitively true, the notion persists that running, especially when done long-term and over long distances, is bad for the joints. Indeed it would be hard to think otherwise when, with each foot strike, a runner's knee withstands a force equal to eight times his body weight — for a 150-lb. person, that's about 1,200 lbs. of impact, step after step.

The common wisdom is that regular running or vigorous sport-playing during youth subjects the joints to so much wear and tear that it increases a person's risk of developing osteoarthritis later in life. Studies have suggested that may be at least partly true: in one study of about 5,000 women published in 1999, researchers found that women who actively participated in heavy physical sports in their teenage years, or weight-bearing activities in middle age, had a higher than average risk of developing hip osteoarthritis by age 50. (See the top 10 medical breakthroughs of 2009.)

But over the past few years an emerging body of research has begun to show the opposite, especially when it comes to running. Not only is there no connection between running and arthritis, the new studies say, but running — and perhaps regular, vigorous exercise generally — may even help protect people from joint problems later on.

In one well-known, long-term study conducted at Stanford University, researchers tracked nearly 1,000 runners (active members of a running club) and non-runners (healthy adults who didn't have an intensive exercise regimen) for 21 years. None of the participants had arthritis when the study began, but many of them developed the condition over the next two decades. When the Stanford team tabulated the data, published in the Archives of Internal Medicine in 2008, they found that the runners' knees were no more or less healthy than the non-runners' knees. It didn't seem to matter either how much the runners ran. "We have runners who average 200 miles a year and others who average 2,000 miles a year. Their joints are the same," says James Fries, an emeritus professor of medicine at Stanford, and leader of the research group. The study further concluded that runners experienced less physical disability, and had a 39% lower mortality rate than the non-runners.

In 2007, a nine-year study of 1,279 elderly residents of Framingham, Mass., found similar results: that the most active people had the same risk of arthritis as the least active — about 9% of the participants overall developed arthritis over the course of the study, as measured by symptoms reported to their physicians (pain and difficulty in walking) as well as X-ray scans. And in the same year, Australian researchers writing in the journal Arthritis and Rheumatism found that people who exercised vigorously had thicker and healthier knee cartilage compared with their sedentary peers. That suggests the exercisers may have also enjoyed a lower risk of osteoarthritis, which is caused by breakdown and loss of cartilage. (Read "Runner Trend: Going Barefoot")

Together, the findings lend support to the theory that osteoarthritis, which affects nearly 20 million Americans, is caused mainly by genes and risk factors like obesity (obese men and women are at least four times more likely to become arthritic than their thinner peers), rather than daily exercise or "wear and tear" of joints. In fact, a "normally functioning joint can withstand and actually flourish under a lot of wear," says Fries. Because cartilage — the soft connective tissue that surrounds the bones in joints — does not have arteries that deliver blood, it relies on the pumping action generated by movement to get its regular dose of oxygen and nutrients. "When you bear weight, [the joint] squishes out fluid and when you release weight it sucks in fluid," says Fries, explaining why a daily run, or any other workout, is in fact useful for maintaining healthy cartilage.

That's not to say that there are no risks from running. It can sometimes cause soft tissue injuries and stress fractures, also called hairline fractures, which result from the compounding of tiny cracks in the bone over time. It's not uncommon for such tiny cracks to appear in bones that bear the heaviest loads, like the tibia (shinbone), but they usually heal quickly and go unnoticed. Stress fractures occur in cases when bone damage happens suddenly, without enough time to heal. For instance, high school athletes who stop training all summer, then abruptly start attending practice every day have a much higher risk of suffering stress fractures in their shinbones, compared with their friends who practiced regularly over the break.

The good news is that there are ways to help reduce the risk of stress fracture. One method may simply be to strengthen the muscle attached to the bone. In a study published in the December issue of Medicine & Science in Sports & Exercise, researchers from the University of Minnesota found that among competitive female runners, those with larger calf muscles were less likely than runners with small calf muscles to suffer stress fractures in their shinbones. Why? The stronger the muscle, the greater the force it exerts on the bone — a contracting muscle exerts a bending force on the bone, like a string bending a bow — an interaction that over time makes the bone stronger.

So, simple calf-muscle exercises, like rising up on your toes about a dozen times a day, may be sufficient to increase strength in the shinbone, says study author Kristy Popp, who recently completed her Ph.D. in exercise physiology at the University of Minnesota. She suggests adding calf workouts to your regular exercise routine, but cautions that increasing muscle and bone strength is a gradual process, and that having strong calves is no cure-all. But "if it can help prevent stress fractures, it's worth a try," says Popp.

In a second study in the same journal, researchers from Iowa State University used computer modeling to figure out how the length of a runner's stride might change the force applied to his or her bones, and thereby impact the risk of stress fractures. Researchers recruited 10 male participants, each of whom typically ran about three miles per day, and calculated their risk of experiencing a stress fracture — about 9% over 100 days. By observing the participants running at varying stride lengths, and recording the amount of force their foot strikes exerted on the ground, researchers were able to estimate the force each runner applied to his shinbone as well. According to the computer model, if the runners reduced their natural strides by about 10%, they could also reduce their risk of fracture by a third.

The reason is less air time, researchers say — the less time a runner's feet spend airborne, the less force with which they strike the ground. Still, the results of a mathematical model are difficult to recreate in real life, especially since it takes a fair amount of practice to adjust to a shortened stride. Runners who abbreviate their stride try instinctively to quicken their pace to compensate. That can negate any protective effect of stride shortening — when you speed up, the force on the bone increases proportionately.

Study author Brent Edwards, now at the University of Illinois in Chicago, says he "would never recommend stride-reduction to a competitive runner," but he suggests the technique for people with a history of stress fractures, such as former athletes. The biggest risk factor for stress fractures, he notes, is simply having had such a fracture in the past. But the best advice for runners wishing to reduce injuries is to keep running; that is, run consistently and avoid long periods of inactivity. That may be especially hard during the snowy winter months, but runners should try to get in a daily workout — hitting the treadmill, running up and down stairs, or even shoveling the driveway should do the job. Just don't sit around all winter and then start running three-milers in the spring. It's that sudden activity that increases risk for injury.

See the $20 knee in the 50 best inventions of 2009.

Read "Study Doubts Knee Surgery Benefits"

| | | | |
| --- | --- | --- | --- |
| China's youngest marathoner chases her father's dream | | | |

Written by asunsun

Thursday, 12 November 2009 20:51

Evan Osnos, Lingao
April 21, 2007


THE clock above her bed read 2.24am — time for the eight-year-old to train for another marathon.

Second grader Zhang Huimin, who weighs 19 kilograms and likes the Little Mermaid, sat up and glanced groggily around the one-room home she shares with her father, an out-of-work fish farmer with a singular goal: grooming his daughter for the 2016 Olympics.

Next year, Beijing will host the Olympics, casting an unprecedented spotlight on China's athletes and the nation that shapes them. Huimin is too young for the Beijing Games, but she has already appeared in an Olympic promotion on state television, her first flicker of national fame.

On this Saturday, as she does most weekends, she will run more than 41 kilometres before school, on top of the dozens of kilometres she runs before school each week.

To her adoring village in southern China, her image — pigtails and arms swinging, her father cycling beside her — embodies strength and sacrifice. But to others she personifies a darker side of today's China: a culture of relentless competition amplified by a media hungry for celebrities.

China's youngest marathoner is unlikely to become the world's next great runner; her tiny body is almost certain to give out if she keeps running so much, experts in China and the US say.

Her story says more about the conditions that created her: a father whose dream of sporting glory never materialised, an impoverished town dazzled by attention, and a nation where the transformative power of fame can make almost anything seem worthwhile.

"It's good for her," said Li Kequan, head of the running club in the nearby city of Haikou. "It's also good for the country and it's good for Haikou."

Haikou is the capital of China's smallest and southern-most province, Hainan. On the edge of the city lies the rice-paddy county of Lingao, population 400,000, barely a speck by Chinese standards. Water buffalo amble across the highway. Farmers earn an average of $US1 (83 cents) a day.

In a nation of 1.3 billion people that never has enough jobs or university places to go around, sport is a path to success that does not require influence or money. Athletes held the top two positions in the recent Forbes ranking of Chinese celebrities based on media appearances and income.

Huimin's father, Zhang Jianmin, is a small, kindly, 54-year-old labourer. He was a standout table-tennis player and runner when he graduated from high school in 1974, but the chaos of the Cultural Revolution stymied his hopes of entering China's Soviet-style sports schools.

He later found work as a bureaucrat but gave it up to try raising fish. That failed, and today his income comes from an adult son who sends cash each month. His wife left years ago.

Mr Zhang said he started running with his daughter when she was four, adding distance each morning. At seven, she completed the Haikou marathon in three hours, 28 minutes and 45 seconds. Last month she finished China's Xiamen International Marathon in 3:44.51.Organisers waived the minimum age of 18 and allowed her father to cycle beside her.

Mr Zhang has staked everything on his daughter's running. "My plan is that we will have a hard five years," he said, "and then, when she reaches 12 or 13 years old, she could take part in more national competitions. Hopefully, a professional team will take her."

Father and daughter headed out into the dark at 2.53. She broke into a jog, her white cotton sneakers padding along the asphalt, her father beside her on an old mountain bike.

A crew from Chinese state television crept beside them in a car, a cameraman poking out of the sun-roof. Hours passed. Huimin and her father paused for a drink every hour or so. Four hours and 35 minutes after they started, the father decided that was enough for the day.

"I like long-distance running because it's fun. It's not tiring," Huimin said later, riding to school. "My goal is to be a winner."

| | | | |
| --- | --- | --- | --- |
| Marathon runners reach a Great Wall | | | |

Written by asunsun

Tuesday, 10 November 2009 20:52

Story Highlights 1,600 runners from 49 nations compete in May 17 race Marathon, half-marathon, 5K and 10K races were offered to runners Participants in race generally take 50 percent more time than normal marathon

By Rebecca Byerly For CNN TIANJIN, China (CNN) --

Mao Zedong once said, "He who has not climbed the Great Wall is not a true man." Mao likely never anticipated the scene on May 17, when more than 1,600 athletes from 49 countries not only climbed but ran The Great Wall of China Marathon. The race was held for a ninth year in Tianjin, a rural province three hours outside Beijing. "For most people just seeing the Great Wall of China is a big deal," explained Cliff Jennings, an agent for Marathon Tours, a Boston-based adventure-running company. "But, for a few hours one day a year, people can actually run over 2,000 years of history on a portion of the Great Wall." Revered as one of the most challenging marathons in the world, runners clambered over thousands of steps, varying in length and size, to complete the course. In addition to the marathon, participants also had the option to run a half marathon, 10K, or 5K. Far from the pollution in Beijing over which the Olympic marathon runners are fretting, these runners enjoyed a mild smog-free day. The event's diverse participants span the globe and represent generations, with ages ranging from 14 to 85. Margaret Hagerty, who at 85 competed in the 10K race, now holds the record for the oldest woman to ever run the wall. Hagerty is already a 2007 Guinness Book World Record holder for the oldest woman to run a marathon on seven continents, including Antarctica. "I've run over 80 marathons across the world but climbing all those steps for the 10K race on the Great Wall was the hardest thing I have ever done," Hagerty, a North Carolina native, admitted. She began her running career at 64 after she went to a clinic to quit smoking. "The Doctor told me to stop smoking and start moving," Hagerty said. When asked why she chose to run the Great Wall she replied, "Why not?" Despite the difficulty of the course, runners such as Terry Theobald, who did not finish the 2007 marathon in the eight-hour time requirement necessary to get official credit for the run, managed to complete the challenge this year. "There were so many times I wanted to quit along the way, but I was determined to not let the wall get the best of me this year," Theobald, 41, who lives in New York said. "When I crossed the finish line with a time of seven hours and fifty two minutes with just eight minutes to spare, I was thrilled." Theobald had a tattoo of the Great Wall Marathon designed on her back as a reminder of her desire to complete this year's marathon. The Great Wall marathon typically takes runners 50 percent longer to complete than their average marathon. This year Romualdo Sanchez Garita, a 37-year-old runner from Mexico, set a new marathon record of 3 hours, 18 minutes, 48 seconds. The event highlighted the diversity of the runners and the richness of Chinese culture. In addition to the Great Wall, the course also took competitors through traditional Chinese villages. "This is more than just a running event, it is also an exchange of culture," said Thomas Orr, a South African who has been working in Beijing the past three years and ran the marathon last year. "The highlight of the year for the people in these villages is seeing hundreds of runners from around the world come through their towns. It is also a great opportunity for runners to see another part of China." Each year the number of runners who take part in the event increases, but this year participation in the marathon saw unprecedented growth. "The number of participants in this year's race increased by 50 percent," announced Lars Fyhr, the International Sales and Event Manager for Albatros Travel, the tour agency that organized the race. "We think the sharp increase could partially be due to people having more interest in China this year because of the Olympics in Beijing." With just three months to go before the Olympics in Beijing begins, some runners said they feel they have already taking part in this year's Games. "Though I will not be here when the Olympics conclude with the marathon event," an unidentified runner joked as he finished the final section of the wall, "I can say that I was already there, and my marathon in China was on the Great Wall."
«
Start
Prev
1
2
3
4
Next
End
»
Page 1 of 4
Copyright © 2018 asunsun.com. All Rights Reserved.